High-Power Programmable DC Power Products
Combining robust power processing topologies with state-of-the-art vertically integrated USA manufacturing, tens of thousands of companies—from startups to Fortune 500s—rely on Magna-Power's high-quality programmable DC products to power their innovation.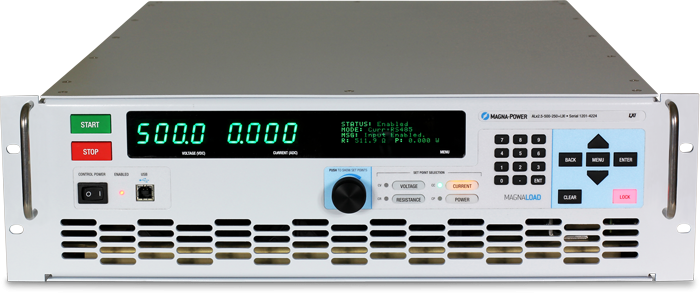 Unified product platforms
Consistent controls, performance, and interfaces
Programmable DC Power Supplies
Utilizing the rugged current-fed power processing topology, spanning over 500 models from 1.5 kW to 3,000 kW+, and numerous standard options, Magna-Power offers one of the industry's broadest range of programmable DC power supplies.
10,000+ available product configurations
Build-times starting at 2-3 weeks
SCPI command API, NI LabVIEW drivers, IVI drivers
Isolated 37-pin external user I/O standard for easy PLC integration
High voltage and high current models available
DC Electronic Loads
Offering both conventional linear topology and patented Active Resistance Technology, Magna-Power defines a new cost-point for high-power electronic loads from 1.25 kW to 20 kW+, offering unique control modes and highly reliable continuous full-power operation up to 50°C.
MagnaLINK™ distributed DSP control architecture
Models up to 1,000 Vdc and up to 4,800 Adc
16-bit high precision with up to 6 different control modes
High-power air- or water-cooled models available
SCPI command API, LabVIEW drivers, IVI drivers
Why Magna-Power
Technology and reliability driven approach to power electronics design
Unified product platforms
Magna-Power's meticulous design controls enables consistent firmware, computer commands, features, options, and user I/O across product families, so you can spend less time adapting software and controls as product needs change.
Expansive programming support
Get up in running quickly programming Magna-Power products, using included Magna-Power software, provided NI LabVIEW and IVI drivers, or using an extensive library of supported SCPI commands in your language of choice, like our favorite: Python.
Fast build-times
With complete control of the manufacturing process under one roof and substantial investment in stocked common assemblies, Magna-Power offers industry-leading made-to-order build-times of 2-3 weeks on the most common products.
Flexible options and add-ons
Global reach
Worldwide network built over 40 years
Magna-Power is dedicated to providing best-in-class support for high-power programmable DC power supplies and electronic loads applications. With sales offices in the United Kingdom and China, partners in over 45 countries, and a network of 40 North American representatives, since 1981 Magna-Power has continuously expanded its world-class network of sales, service, and integration channels alongside growth of its product line.
watts of programmable DC power products shipped
Customers worldwide using Magna-Power products
countries with sales and support of Magna-Power products
build-time on most products from 1.25 kW to 25 kW
Adam S.
Blue Robotics
Thank you and your team for your excellent service and providing an outstanding product. All my questions were answered thoughtfully, and we had full confidence in our purchase. The power supply has been performing excellently, handling all the loads we've been throwing at it without so much as a hiccup.
Matt H.
The George Washington University
I'm so used to some of our other equipment taking a month or two to get sorted out, so it's a nice change of pace when this gets done so quickly.
Paul K.
Lockheed Martin
To do what Magna-Power does with one power supply, we would've needed three from the other guys. On top of that, Magna-Power was less expensive, so the bang for buck and size was excellent.
Amin S.
University of Houston
High quality products from Magna-Power! I worked with different manufacturer's power supplies and faced different problems (e.g. EMI noise), but no problem with Magna-Power.
Hanan F.
Alencon Systems
Your service is really fantastic. Beyond just being a vendor of great products we use every day, we really look up to Magna-Power as the gold standard of a domestic power electronics manufacturer and we are striving to emulate your commitment to operational excellence and commercial success in our own business.
Mason S.
GE Aviation
We were very impressed by what we saw while visiting yesterday ... the organization and cleanliness of your facility was an apparent statement to back up the emphasis on quality products.
Tom S.
QinetiQ
Below is the scope capture from the XR connected directly in place of the Sorensen. We were amazed! ... I am impressed with the build quality of the unit, chalk one up for Made in the USA!
Marcelo S.
Colorado School of Mines
I have two Magna-Power supplies in my lab. I love them: reliable, precise, wonderful equipment.
Vertically integrated USA design and manufacturing
Magna-Power Electronics products are proudly made in the USA at the company's vertically integrated headquarters in Flemington, New Jersey. All engineering, manufacturing and North America product servicing is performed at the company's headquarters.
Magna-Power Electronics utilizes vertical integration in its manufacturing process for complete control over product quality, cost, and lead-time. Vertical integration enables Magna-Power to manufacture a very broad line of sophisticated electronic products, while still maintaining industry leading lead-times. Housing engineering and manufacturing teams in the same facility forces strong collaboration between the two teams for continual process and product improvements.